FPS Foundation inducts first Hall of Fame members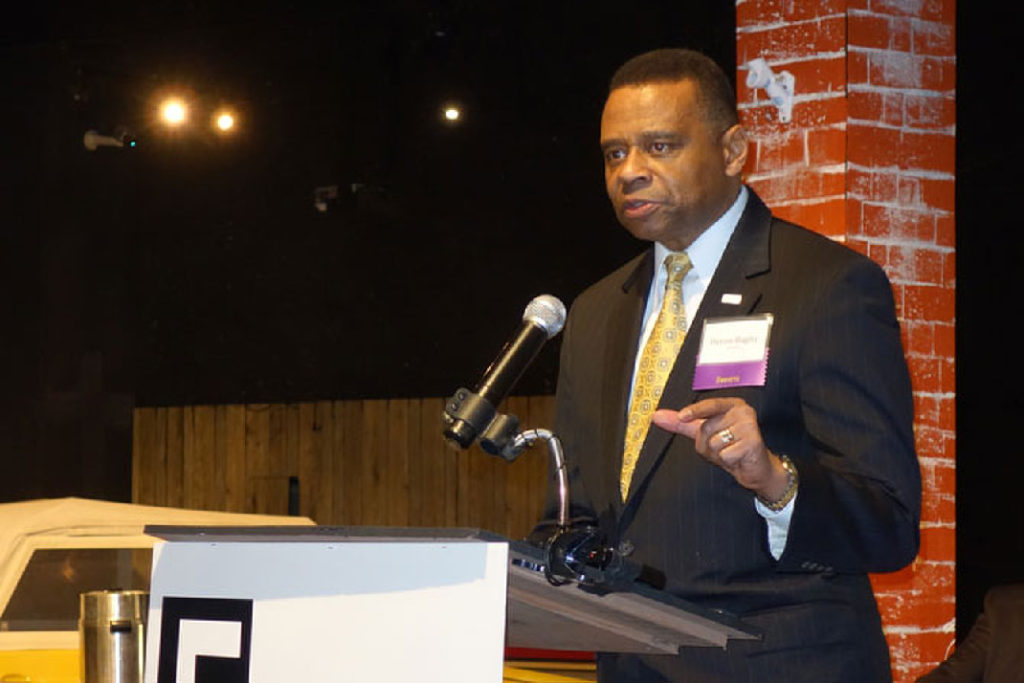 Byron S. Bagby, retired major general with the U.S. Army and Fulton High School class of 1974 graduate, Fulton Public Schools Foundation gala attendeesson. He thanked FPS, Westminster College and his church in Fulton, Calvary Missionary Baptist Church.  Photo by Helen Wilbers /Fulton Sun.
Fulton Public Schools Foundation members packed in between vintage cars from every era to celebrate another year of giving.
In 2017-18, FPSF made $15,622.97 in grants and special project contributions to Fulton Public Schools. Six reunion classes (1952, '62, '67, '72, '77 and '97) donated $14,854.97, while Hornet Foundation Circle members gave $22,800.
"I've been able to see what these grants have done for our schools firsthand," FPS Board of Education President Todd Gray said.
FPSF funded 10 classroom grants in 2017-18, and many of the recipients attended the gala to display what they'd accomplished with the funds.
Linda Hackman runs "Lights, Camera, Science in Action" at Bartley Elementary, a project that received a $500 grant. She purchased an iPad and green screen, which she uses to film students performing science experiments. She's also come up with some creative uses for the technology.
"We had a March Madness party, so we used the green screen to take pictures of students and make it look like they're at a stadium," she said. "When you take a picture of a kindergartener and show it to them, they'll turn around and try to figure out where the picture was."
Katie Finley is a kindergarten teacher at Bartley Elementary and co-leader of "Seatbelts Everyone!" (recipient of a $500 continuation grant). Through the grant, kindergarten students get to take field trips around Callaway County. Funds also provided matching T-shirts for the "Bartley tiny travelers," and wearing the shirts has become a point of pride for the students, she said.
"Everyone's opened their doors to us," Finley added.
Hall of Fame
The gala also recognized the first FPSF Hall of Fame honorees.
"The foundation recognized the importance of honoring Fulton graduates who have gone on to achieve excellence in their life endeavors," Foundation President Rodney Latty said. "We are very pleased with our first class of distinguished alumni to be inducted into the new Hall of Fame."
The hall is a project two years in the making, he added.
Byron Bagby, William Baker, Milia Islam-Majeed and Dr. Jerry Kennett attended the gala and spoke.
Bagby graduated from Fulton High Schoool in 1974 and then from Westminster College. He served 33 years in the Army and attained the rank of major general before retirement. He is currently the managing partner of BMB Solutions, an independent consulting firm focusing on executive leadership development and coaching, strategy development and international business development.
"People ask me, what are my criteria for success?" Bagby said. "First, I tell them that success is relative. Then I say that the three pillars within my foundation for success are all here in Fulton."
He credits Fulton Public Schools, Westminster College and Calvary Missionary Baptist Church for making him the man he is today. Bagby named some of his mentors along the way, including Goldie Vaughn, his first-grade teacher at George Washington Carver Elementary School, and his parents.
Bagby pointed out that in his parents' time, schools were segregated and local Black youths typically only attended until eighth grade.
"They taught me two things you can't buy or learn in a classroom: My work ethic and to take advantages of the opportunities you've been afforded," he said.
Baker graduated FHS in 1971 and then from the University of Missouri, going on to become a structural engineer. Baker is internationally known for his innovation, and has been with Skidmore, Owings & Merrill in Chicago for more than 35 years. His engineering work even helped build the Burj Khalifa, the tallest human-made structure ever.
Baker's job takes him all over the world, but he said he's never forgotten his roots.
"My family has been in Callaway County since the 1820s," he said. "They arrived around the Civil War. My parents, grandparents and maybe some of my great-grandparents all went to Fulton Public Schools."
According to Baker, Fulton is a special place with a unique identity. Having two colleges, the Fulton State Hospital and the Missouri School for the Deaf has helped it maintain an unusual diversity of thought and people for a small town.
"I hope that Fulton continues to be the special place it is," he added.
Islam-Majeed graduated in 1997 and attended Westminster College, followed by graduate work at Harvard University where she earned a masters in Theological Studies of the World Religions and Anthropology. Currently, she is the executive director of the South Coast Interfaith Council serving approximately 1.8 million people in southern California.
She also travels the world, speaking on the topic of creating a world defined by compassion.
"I do a great deal of public speaking, and it's amazing how often I talk about my childhood in Fulton," she said.
Her parents came to America from Bangladesh when she was 7. It wasn't always easy, she said. Her family was the only one from that part of the world in Fulton at the time, and possibly the only followers of Islam in the area.
"I still remember my mother coming home from her work at Stride Rite, the local shoe factory, with her hands in pain," Islam-Majeed said.
Back in Bangladesh, her mother had hoped to become a physician, and her father worked directly with the president. In Fulton, her father was an optician by day and worked at McDonalds at night.
"Like so many immigrant families, they came here for the betterment of life for their children," she said.
Islam-Majeed thanked her parents for their hard work, and also thanked the many amazing teachers she had in FPS.
"Thank you for making learning my passion," she said. "Through my travels, I've realized that the real hope of the world to create peace lies with you. There's no profession that more directly shapes tomorrow."
Kennett is a 1965 FHS graduate who then attended Westminster, followed by medical school at the University of Missouri. He is a founding member of the Missouri Cardiovascular Specialists and pioneered the interventional cardiology program at Boone Hospital Center.
Unlike the other inductees, Kennett has remained close to home throughout his career — he grew up in Millersburg and now practices in Columbia.
His first years of school were in a one-room schoolhouse; after that burned down, he went to a two-roomed school. He remembers girls and boys entering through separate doors.
"That shows you how much times have changed," Kennett said. "Now their coats can hang in the same room."
Going to Fulton High School from a tiny schoolhouse was quite the shift, he added.
When his family's house burned down during Kennett's sophomore year of high school, his teachers provided invaluable emotional support to him, he said. Today, he's happy to live and work in this community.
If people ask when he plans on retiring, Kennett tells them he isn't.
"I get to go to work every day, talk to my friends and then send them a bill," he said, drawing laughs from the audience. "Why would I retire?"
Following the honorees' remarks, Latty thanked them all for traveling to the gala.
"It's clear that Fulton Public Schools casts a wide net," he said.
You made read the Fulton Sun article here.