Mini-Grant Recipients
2015-2016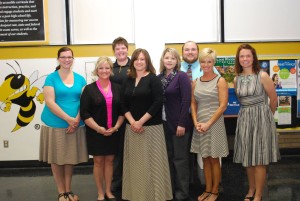 $1000  McIntire STEAM Night
Nikki Brown and Curriculum Committee 
McIntire Elementary
McIntire Elementary will host a STEAM night where students and families participate in activities that incorporate Science, Technology, Engineering, Arts, and Math.  This allows students an opportunity to explore different ideas and to use higher-order thinking in the process.  This is also an opportunity for parents to be involved in the students' academics.
$1000   Creation Station
Casey Echelmeier   
McIntire Elementary
This is an after-school quarterly program focused on developing STEAM skills, problem solving, and critical thinking in 4th and 5th grade students.  It is designed to meet the many diverse needs and passions of all students involved.
$1000   Cast the Chrome
Erica Hogan
Bartley Elementary
Cast the Chrome will give students the opportunity to cast apps and projects they have created to the TV through the use of Chromecast. This will also allow for peer teaching and collaboration.  Students will be encouraged and motivated to do quality work so they can display their projects.
$500 Bringing the Justice System to Life
Melody Hapner 
Fulton High School
All students in English 1 class will have the opportunity to go to Jefferson City to explore the Missouri State Supreme Court and the Missouri Capitol.  They will see first-hand how the justice system works.  This will enhance their unit over the novel, Monster, about a 16 year old boy who is on trial for murder.
$1000      Geometry in Pictures:    "You should see in pictures"
Stephanie Smith         
Fulton High School
Students will explore and excavate real life situations that are applicable to the current classroom content to connect reasoning and depth of knowledge.  Students will utilize cameras to collect data and photos of real life items that can be used in the classroom according to geometry or algebra content.
$500    Authentic Educational Experiences We Will Always Remember
Katie Finley and Robyn Frame
Bartley Elementary
Kindergarten students will take educational adventures around the community to provide them with authentic learning experiences. These include field trips of the community, Peace Tree Farms, KOMU television station, William Woods University, Westminster College, The Callaway Bank, and the Runge Nature Center.
$1000   Middle School Guided Reading Bookroom
Joshua Howard  
Fulton Middle School
This grant will allow a Bookroom to be created at Fulton Middle School where leveled reading materials are kept for teachers and students' use as needed.  These bookrooms will allow students to obtain reading materials at their ability level and will provide them with instructional texts that work for the level at which they are performing.
---